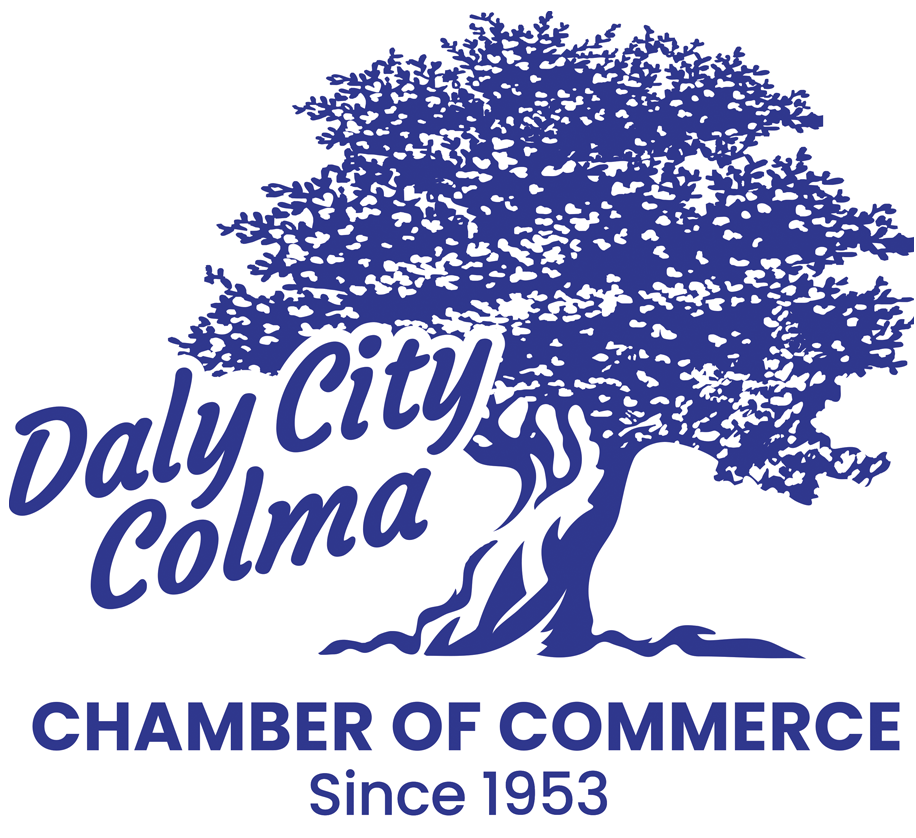 Chamber events are being postponed because of the pandemic. Please watch the website and social media for updates.
12th Annual Crab Feed
Scholarship Fundraiser
Vignette
Vignette
Vignette
Business to Business Extravagzana
Business News & Views Breakfast
Business to Consumers Showcase
Annual Halloween Spook Parade & Costume Contest
Annual Bowling Tournament
Annual Holiday Soiree and
65th Cypress Business Awards & Installation Ceremony
Click here to see 2020 events.
Check back as the Event Calandar
is subject to change.

FOLLOW US:




UPDATED: Additional Businesses to Close Sunday, August 2, 2020
"The state has informed  
San Mateo County
  that due to being more than 3 days on the COVID monitoring list, specific indoor businesses must cease operations, unless they can be modified to operate outside or by pick-up. Beginning 12:01 a.m. Sunday, Aug. 2, 2020, the state order to close or move outside applies to the following businesses:  
Gyms and fitness centers
Places of worship and cultural ceremonies, like weddings and funerals Offices for non-critical infrastructure sectors
Personal care services, like nail salons and body waxing
Hair salons and barbershops
Shopping malls
Shops that offer tattoos, piercings, and electrolysis may not be operated outdoors and must close.
Information about the County of San Mateo's response to COVID-19 is at  
www.smcgov.org
 ."
---
Business Display Requirements Webinar 7/23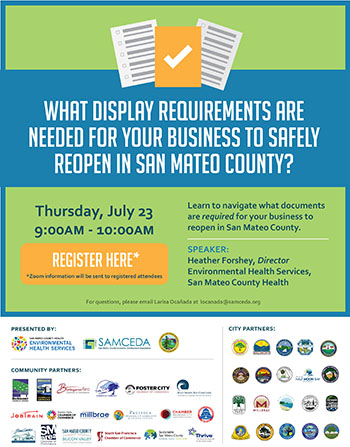 Click here to register or on poster.
Click here to download poster.
Governor Orders, Statewide Shutdown of Indoor Dining, Movie Theaters, Family Entertainment Centers as Covid-19 Cases Spike
"Gov. Gavin Newsom today ordered a sweeping shutdown of indoor dining, movie theaters, family entertainment centers, and additional indoor operations in all counties, including San Mateo County, amid a statewide spike on COVID-19 cases.
Governor Newsom's measures further emphasize the need for all of us to do our part in stopping the spread of COVID-19,' said Dr. Scott Morrow, San Mateo County Health Officer. 'That means wearing a face covering, maintaining social distancing, and limiting our activities. It's up to us to determine our future.'
The following must close statewide – including in San Mateo County – under the governor's emergency order:
Dine-in restaurants (indoor)
Wineries and tasting rooms (indoor)
Movie theaters (indoors)
Family entertainment centers (indoors)
Zoos and museums (indoors)
Cardrooms (indoors)
Brewpubs, breweries, bars and pubs (indoor and outdoor)
Outside dining is still allowed."
New Required Signage
San Mateo County Health requires businesses to fill out and post a self-certification placard along with other signage your Chamber emailed in previous email blast and posted on the DCCChamber COVID-19 resources page Click here for the complete list of requirements and resources.
To receive email news blast please click here.
Read DCC Chamber 2.0 for 2020 eNews by clicking here
S

an Mateo County Reopening Plan Overview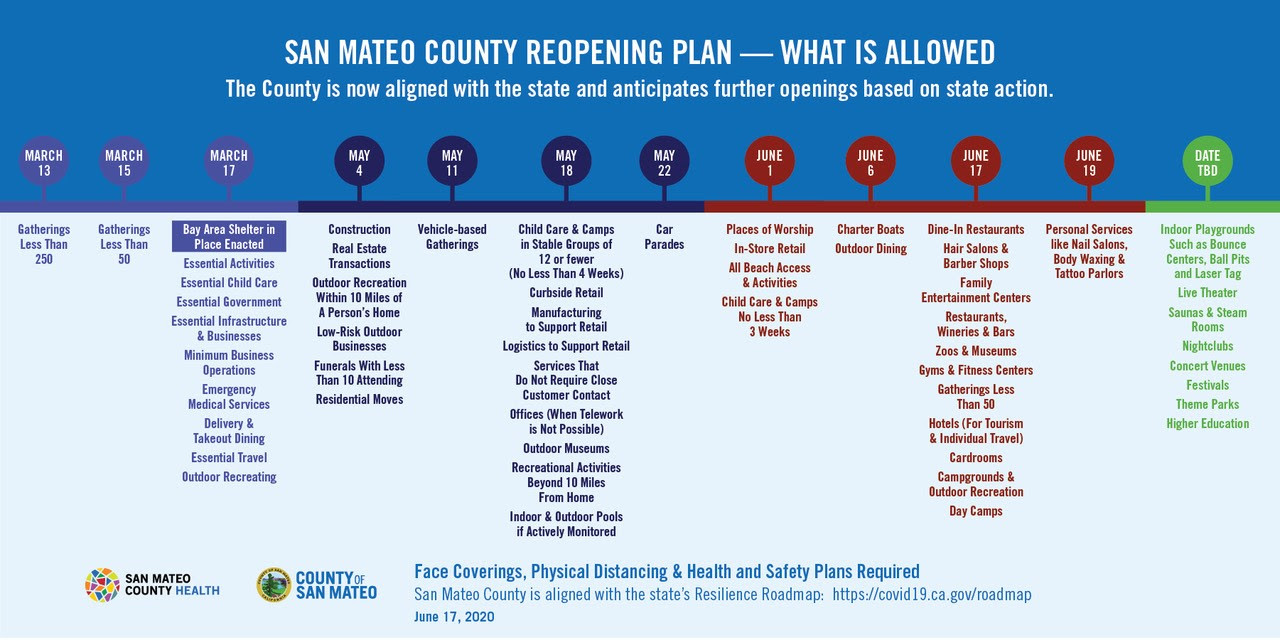 "The State of California has established a Resilience Roadmap with four stages: State Resilience Roadmap. The State determines, based on various public health criteria, when and how each county may reopen. On June 16, 2020, the State approved San Mateo County's attestation, which allows San Mateo County to move with the State as it allows additional activities and businesses.
Accordingly, the Health Officer of San Mateo County issued a new Safer Community Order on June 17, 2020, that is effective at 12:01 am on June 18, 2020. The Order is here: English, Spanish, Chinese, Tagalog. The new Order supersedes and replaces the prior Shelter in Place Order and is in full alignment with the State's Order as of the time it was issued. This Order is in effect until it is extended, rescinded, superseded or amended in writing by the Health Officer.
All businesses approved for re-opening by the State are permitted to reopen at this time, subject to all State requirements. If you have a question about what is open and what is allowed, you should begin by reviewing the State's answers to Frequently Asked Questions, which can be found here: State FAQ."
Please visit here to read more of the San Mateo County Reopening plan.
San Mateo County Reopened June 18, 2020.
On June 18, 2020, San Mateo County applied for a variance and can continue the gradual re-opening to match the maximum allowed by the State's Resilience Roadmap. This Order is intended to fully harmonize the County with the State as to the activities and businesses allowed. Businesses now permitted are: Dine-In Restaurants, Hair Salons, Barbershops, Nail Salons, Waxing Services, Tattoo Parlors, Casinos, Cardrooms, Movie Theaters and Entertainment Centers, Zoos and Museums. Gyms and Fitness Centers, Wineries and Bars, Hotels (for tourism and individual travel), Racetracks, Campgrounds and Outdoor Recreation. Click here to read the full order.

Businesses visited by the public must "prepare, post, implement, and distribute to their personnel a written health and safety plan that addresses how it will comply with all applicable Statewide guidance issued by the State of California. If it is a service business that operates at customer homes, it must instead of posting at the home, send an electronic version of the plan to the customer at least one day in advance of the service being provided. In addition, businesses must post any additional placards or other content as directed by San Mateo County Health click here to read. Statewide guidance can be found by clicking here. If the State provides a "checklist", the "checklist"may serve as the framework for the required plan."

Businesses must still practice social distancing protocols as outlined by the state.
Click here to read social distancing measures being implemented per the Centers for Disease Control and Prevention guidance.
That includes limiting the number of people who can  enter into the facility at any one time to ensure that people in the facility can easily maintain a minimum six-foot distance from one another at all times—for clarity this limitation does not require social distancing where it would make performing business functions impossible (e.g., while a barber is cutting hair); Requiring face coverings to be worn by all persons entering the facility, other than those exempted from face covering requirements (e.g. young children) or as necessarily required by the businesses operation (e.g., while eating); Where lines may form at a facility, marking six-foot increments at a minimum, establishing where individuals should stand to maintain adequate social distancing; Providing hand sanitizer, soap and water, or effective disinfectant at or near the entrance of the facility and in other appropriate areas for use by the public and personnel, and in locations where there is high-frequency employee interaction with members of the public (e.g. cashiers); Providing for contactless payment systems or, if not feasible to do so, the providing for disinfecting all payment portals, pens, and styluses after each use; Regularly disinfecting other high-touch surfaces; Posting a sign at the entrance of the facility informing all personnel and customers that they should: avoid entering the facility if they have any COVID-19 symptoms; maintain a minimum six-foot distance from one another; sneeze and cough into one's elbow; and not shake hands or engage in any unnecessary physical contact.
Moonstar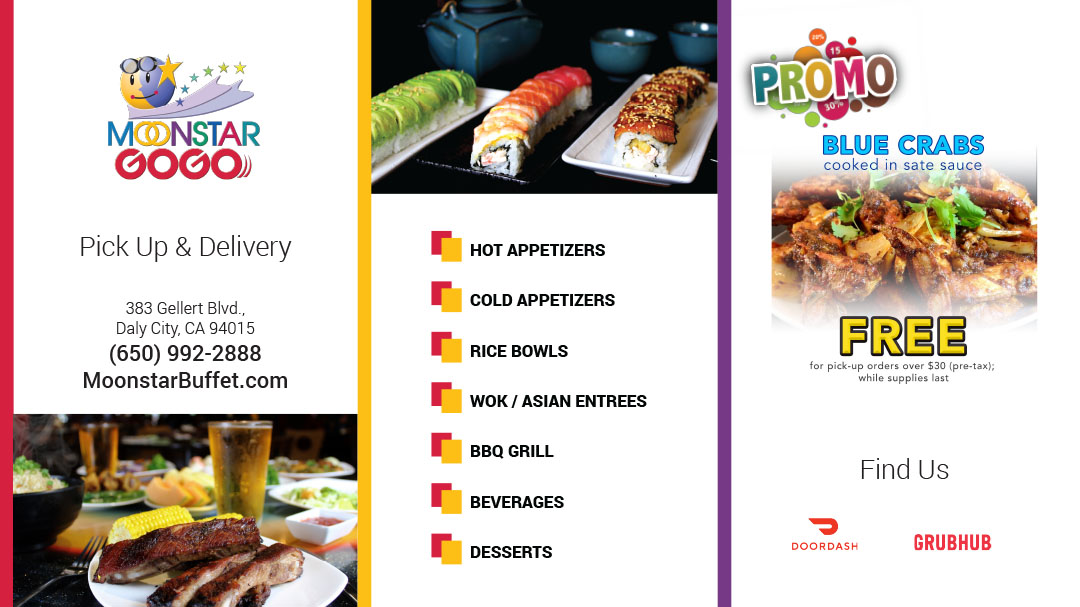 When the Shelter-in-Place order was issued Moonstar Buffet closed their doors, putting the health of families, employees, and customers first. We are delighted to let our Chamber members know that Moonstar has reopened their doors for delivery and takeout. As Assemblymember Philip Y. Ting  said when awarding Daisy Li, owner of Moonstar Buffet Restaurant in Daly City, and her husband and business partner Paul Ng, the 19th Assembly District's 2013 Business of the Year: "Daisy is a well-known godsend in the Asian-American and Pacific Islander (API) and nonprofit communities in San Francisco and Daly City, and her philanthropic spirit is an inspiration to us all."
We deeply appreciate all of the service that Daisy has provided to your chamber by serving on the Chamber board and her active support and partnership with the Daly City / Colma Chamber of Commerce events, for examples at the Annual Business to Business Extravaganza, Access to Education, Crab Feed Scholarship Dinner, Candidate night, to name a few events that they have supported. Moonstar is an active supporter of our youth sponsoring Healthy Kids/Organic Garden and youth scholarships.
Through their Community Outreach Program, Moonstar Buffet participates in charitable events through financial and gift card contributions, food donations, volunteering, and partnering with the Daly City/Colma Chamber of Commerce, the American Red Cross, Self Help for the Elderly, Family Bridges, Catholic Relief Service and many others. We are inspired and pleased to let our members know that Daisy Li has reopened doors of Moonstar to our community. She is an inspiration in serving giving back to the community and providing an welcoming and tasty Asian Food buffet for all to enjoy. Please support Moonstar and order takeout/delivery today. Please click here to visit Moonstar Buffet.
Congratulations to Newly Elec

ted Board Officers and Members for 2020
Dear Daly City / Colma Chamber of Commerce Members,
At the May 2020 board meeting, the board nominated and elected four board executive officers and nine board members to serve on the Daly City / Colma Chamber of Commerce Board of Directors for the upcoming year.  Congratulations to   Manny Reburiano , Allstate Insurance , elected to serve as President of the Daly City / Colma Board of Directors; Ross Sit of Realty One Group Infinity , elected as 1st Vice President; Rebecca Husted , of Better Homes and Gardens Real Estate, J.F. Finnegan Realtors , was elected to serve as 2nd Vice President and CFO; Marie Villarosa Serramonte Center was elected to serve the Chamber as Secretary of the Board and John Hui , Skylawn Memorial Park, who serves the Chamber as our I mmediate Past President.
Congratulations to the following business executives who were elected and agreed to serve on the board of the Daly City / Colma Chamber of Commerce:   Dustin Chase , Lucky Chances Casino;  Bill Chiang , PG&E,  Monica Devincenzi, Republic Services; Spencer Holeman , Holeman & Associates; Steve House , Budget Blinds ; Caryl B. Mulchand, Cypress Lawn Cemetery; Eleanor Serrato , City Toyota Daly City;  Lizette Tran , Chase Bank; and Tiffney Ung, Olivet Memorial Hall. Click here to see Board roster.
T he strength of the board of directors is a positive reflection on what we have achieved and the role we play in the Colma and Daly City business community. The Daly City / Colma Chamber is dedicated to business and committed to promoting the City of Daly City and the Town of Colma as an excellent place to do business. Chamber members engage in such valuable activities as meeting to exchange ideas, forming new business contacts, solving mutual problems, lending support and planning for the future growth of the business community.
In compliance with the updated San Mateo County Health Shelter in Place Order, your Chamber office is staffed off site. It is best to email or call. The San Mateo County Health Officer currently requires residents to shelter in place and wear a face covering outside the home.
Click here for Shelter in Place Order and Facts
Questions About San Mateo County Orders, Shelter in in Place? And County Services Impacted by COVID-19? Visit the links below for the latest news and updates: